Working with Steiner's Seven School Sketches – further training for the artist
2 September @ 2:00 pm

-

25 November @ 4:00 pm

|

$250
Event Navigation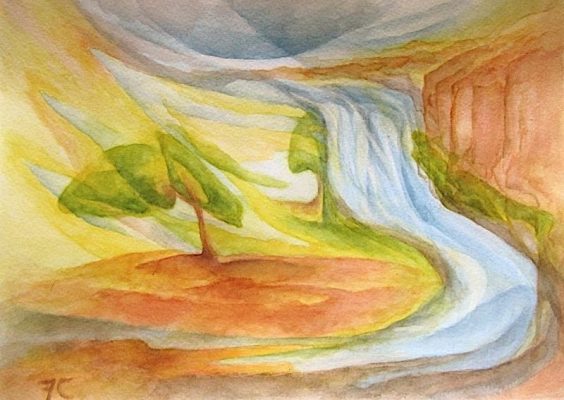 A masterclass studio with artist Fiona Campbell
The Seven School (or Friedwart) Sketches motifs were given to the teachers as part of Rudolf Steiner's new impulse for understanding both Art and Nature, to help students explore objective spiritual laws, where form arises out of colour, not the reverse. The series moves from nature moods through the four elements to culminate in a Madonna and Child motif. 
What are the Training Sketches?
Theses sketches are part of a comprehensive portfolio known as the Training Sketches for the Artists. The Nine Training Sketches (Nature Moods) and the Goetheanum epochs motifs form a substantial part of this portfolio.
But these sketches are not images of external natural events; they refer to acts that are effective in nature and human, says Christiane Haid, head of the Visual Arts Section and the Section for the Literary Arts and Humanities at the Goetheanum. She believes dealing with the creative forces can become the starting point for facing tasks in healing the world. 
You are invited to join artist and researcher Fiona Campbell for an online masterclass (seven sessions) as she works with these motifs as culmination of a year-long project to bring Steiner's sketches and motifs to celebrate the centenary of Steiner's gift to visual artists of the comprehensive portfolio known as the Training Sketches for the Artists.
You don't have to be a professional artist, or even very experienced, to enjoy this course. 
A training for the configuration of the soul
They are called training sketches, but sometimes people wonder what it is they are training. They are not guides to technique, nor are they supposed to be copied literally. They are not answers to what artworks of sunrises and trees and people should look like. Rather, they are a training for the soul. What does this mean?
Through working with each sketch, the painted is lead towards an inward experience of the motif. This opens up the way to true moral and spiritual experiences. By learning to unite herself with the inner essence of these motifs, the artist can reveal through her work traces of her soul experience of the cosmos.
Historical background
In June 2022 it will have been one hundred years since the painter and sculptor Henny Geck asked Rudolf Steiner for a course that would bring about a renewal of the art of paining. Steiner gave a series of motifs to the artists in the form of rough sketches, as a foundation for the renewal of the art of painting. the foundational program for painters seeking to work out of Anthroposophy. This program is comparable to the indications he gave to the eurythmists and has been practiced in different forms in anthroposophic art trainings since Steiner first gave the Nine Training Sketches to artist Henni Geck 100 years ago.
These masterclasses are part of a worldwide movement this year to celebrate Steiner's  artistic impulse, including the Goetheanum motifs, on the centenary of the burning down of the First Goetheanum. They are also offering lectures and courses to help realise Rudolf Steiner's vision of a new impulse in the arts and make these motifs visible to the wider public. 
Who are the masterclasses for?
For artists, Steiner teachers, art therapists and art students looking to find a path in soul/spiritual development through the arts; and for anyone interested in understanding more about Rudolf Steiner's impulse in Art.
To get the most out of this course, it is anticipated that participants work alongside Fiona in-class and on their own between sessions. 
Required
familiarity with Steiner's or Goethe's colour theories
basic watercolour wet-on-dry skills (you can use wet-on-wet or any other painting media, such as oils or acrylics, if you prefer but technical advice is not directed towards these media) 
This is not a step-by-step instructional class so not suitable for beginners.
What dates are the classes?
2-4pm AEDT Friday afternoons
2/16/30 September, 14/28 October, 11/25 November.
Session 1: Sunrise
Session 2:  Sunset
Session 3:  Trees in Sunny Air
Session 4:  Trees in Storm
Session 5:  Sunlit Tree by a Waterfall
Session 6:  Head Study
Session 7: Madonna and Child
How much does it cost?
Online series: $250 for 7×2 hr masterclasses or $42 for individual sessions.
Where do I register?
Please register online. If you are a new participant please also complete the enrolment form.
You  can download the enrolment form here (payment details and a list of suggested materials and readings included). The Zoom link will sent to you a few days before class.
Edited versions of the masterclasses are recorded but live participation is preferred, unless your time zone makes this impossible.
For more information
For more information about the masterclass or for any questions, please contact Fiona Campbell 
 You may also like to share this flyer with others. 

About Fiona Campbell and her work
Fiona Campbell is a visual artist, researcher, lecturer and arts educator. She has an interdisciplinary PhD on creativity and cognition. She has been a professional artist and arts educator for over 30 years.
She is also teaches interdisciplinary research training and consciousness studies. She is a member of the Stream of Life Research Studio, where her focus is phenomenology and creative cognition.
You can find out more about Fiona, read about her teaching work at Sydney Rudolf Steiner College (where she has taught since 1994) or listen to a recent ABC Soul Search interview with her about the anthroposophical approach to art.
'and in the creations of the artist t here will appear to us

the traces of his soul experience in the cosmos'

(Steiner 1-4 January 1915).
Photo credit: Sunlit Tree by a Waterfall, © Fiona Campbell