About the Sydney Branch
The Anthroposophical Society in Sydney (St. John's Group) is based at Rudolf Steiner House, 307 Sussex Street, Sydney, a central city location near Town Hall Station.
A large range of activities take place at Rudolf Steiner House, supporting members and friends in their Anthroposophical quest. We hold our regular lectures here every Tuesday evening during school terms, as well as study groups, workshops, eurythmy groups and art exhibitions. First Class (School of Spiritual Science) is also held here once a month. We have three available rooms for booking, for like-minded groups to hold their meetings. For a calendar view of the upcoming events, look here.
This House is also home of Rudolf Steiner Book Centre, which distributes anthroposophic-based literature through both offline and online services in Sydney, in Australia and even worldwide and a members' library. You can browse the library catalogue here but must be a member to borrow books. 
Sydney Rudolf Steiner College for adult education and Steiner teaching training is also based at Rudolf Steiner House, with short courses in Early Childhood, Craft and Steiner Education.
Members and friends of the Sydney Branch have connections with many of the Steiner schools and groups in and around Sydney, including Warrah and Inala for special needs education, Glenaeon Rudolf Steiner School, Lorien Novalis School, Kamaroi Rudolf Steiner School and the Sydney BioDynamics group.
Affiliated institutions include Raphael's Rooms for anthroposophic-based therapies, Christophorus House Retirement Village, and the Sydney congregation of the Christian Community, based at Balmain. 
Sydney Branch committee
| | |
| --- | --- |
| Branch Secretary & Treasurer | |
| Membership enquiries | |
| Committee members | |
| School of Spiritual Science  | |
Postal & phone contact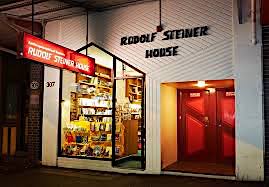 Branch Secretary
Annet van Kesteren
Rudolf Steiner House
307 Sussex St
Sydney NSW 2000
Phone: 02 9264 5169
Sydney Branch Activities
Study groups: Currently there are approximately 4 study groups happening on a weekly or fortnightly basis, studying a range of different book. To receive a current listing of these and other study groups, please contact Annet van Kesteren.
School of Spiritual Science: First Class is held on the 1st Saturday of every month at Rudolf Steiner House, as well as various other locations in and around Sydney. For a current listing, please contact Wolfgang Devine.
Publications
We have a quarterly newsletter where you can find information about our regular Tuesday night lecture and activity program. We also have a regular email list for our members and friends listing Anthroposophical activities in and around the wider Sydney area. For a calendar view of the upcoming events, click here.
To be added to the distribution list for these communications, please contact Annet van Kesteren as anyone is welcome to receive these. You can also find more detailed information about activities and upcoming lectures at Rudolf Steiner House here. There is also a newsletter every quarter you can subscribe to by contacting Annet van Kesteren.