Working with Steiner's Nine Training Sketches for Painters
4 February @ 2:00 pm

-

22 April @ 4:00 pm

|

$200
Event Navigation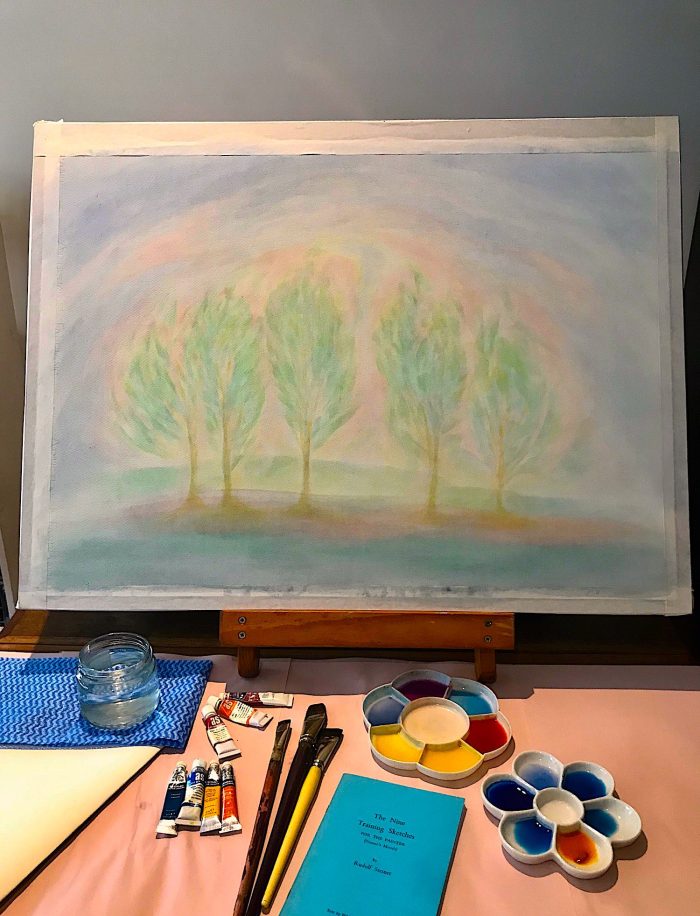 A masterclass studio with artist Fiona Campbell
The Nine Training Sketches motifs were given to the painters as a new impulse for understanding both Art and Nature, to help the artist explore objective spiritual laws. They are a training for the soul.
You are invited to join artist and researcher Fiona Campbell for an online masterclass (six sessions) as she works with these nature mood motifs in preparation for an exhibition. Paint alongside her and share in her process as she works through the series of nine motifs from rough sketch to finished artwork.
You don't have to be a professional artist, or even very experienced, to enjoy this course. 
What are the Training Sketches?
Steiner gave a series of nine and seven motifs to the artists in the form of rough drawings, as a foundation for the renewal of the art of painting. They were called training sketches, but sometimes people wonder what it is they are training. They are not guides to technique, nor are they supposed to be copied literally. They are not answers to what artworks of sunrises and trees and angels should look like. Rather, they are a training for the soul. What does this mean?
Theses nature mood sketches lead the painter towards an inward experience of each motif. This opens up the way to true moral and spiritual experiences. By learning to unite herself with the inner essence of these motifs, the artist can reveal through her work traces of her soul experience of the cosmos.
Background information
In June 2022 it will have been one hundred years since the painter and sculptor Henny Geck asked Rudolf Steiner for a course that would bring about a renewal of the art of paining. To celebrate this event, the Visual Art Section will hold an Intensive Week at the Goetheanum from 1-8 August 2022 and has invited artists to submit their work for the conference exhibition. Fiona has been working with the training sketches for 25 years and intends to submit works for the exhibition. You can view some of her previous works on these themes here. 
Who are the masterclasses for?
For artists, Steiner teachers, art therapists and art students looking to find a path in soul/spiritual development through the arts; and for anyone interested in understanding more about Rudolf Steiner's impulse in Art.
To get the most out of this course, it is anticipated that participants work alongside Fiona in-class and on their own between sessions. 
Required
familiarity with Steiner's or Goethe's colour theories
basic watercolour wet-on-dry skills (you can use wet-on-wet or any other painting media, such as oils or acrylics, if you prefer but technical advice is not directed towards these media) 
This is not a step-by-step instructional class so not suitable for beginners.
What dates are the classes?
2-4pm AEDT Friday afternoons
4 /18 Feb, 4/18 Mar, 1/22 April
Studio intensive: there will also be a face-to-face weekend studio 4/6 June for intensive work.
The online masterclasses will continue after April if there is enough interest.
How much does it cost?
Online series:  $200 for 6×2 hr masterclasses or $40 for individual sessions
Weekend studio: venue and cost tba.
Where do I register?
Payment details and a list of suggested materials and readings available upon registration.
For more information
For more information about the masterclass or for any questions, please contact Fiona Campbell 
 You may also like to share this flyer with others. 

About Fiona Campbell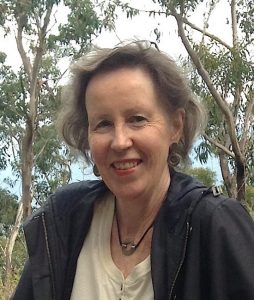 Fiona Campbell is a visual artist, researcher, lecturer and arts educator. She has an interdisciplinary PhD on creativity and cognition. She has been a professional artist and arts educator for over 30 years.
She is also teaches interdisciplinary research training and consciousness studies. She is a member of the Stream of Life Research Studio, where her focus is phenomenology and creative cognition.
You can find out more about Fiona, read about her teaching work at Sydney Rudolf Steiner College (where she has taught since 1994) or listen to a recent ABC Soul Search interview with her about the anthroposophical approach to art.
Fiona is concurrently offering Working with Steiner's epoch motifs as a training for the ordering of the soul for people interested in the spiritual history of humanity, a topic on which she has been giving lectures and workshops for 25 years.
'and in the creations of the artist t here will appear to us

the traces of his soul experience in the cosmos'

(Steiner 1-4 January 1915).
Some examples of the process of working with a sketch
Featured image: Sketch no. 4: Blossoming Trees, in process
Photos credits: courtesy of Fiona Campbell