Working with Steiner's epoch motifs as a training for the ordering of the soul-life
12 February @ 4:00 pm

-

21 May @ 5:30 pm

|

$200
Event Navigation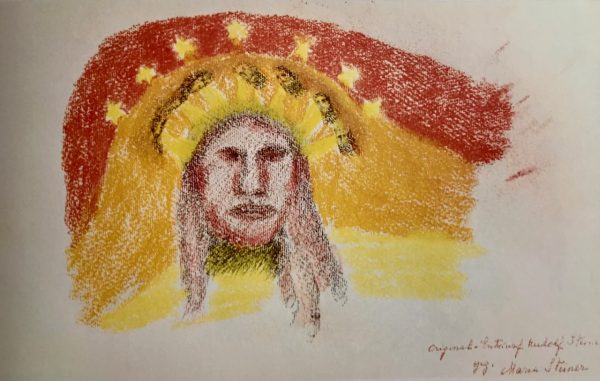 They 'lead us to confront the greatest of riddles – that  of human destiny'
A series of 7 experiential webinars + weekend studio
Immerse yourself in this unique journey through our soul/spiritual development! From our primeval beginnings, through Lemuria and Atlantis to today and into the 6th Slavic epoch, we can capture something of the 'quiver' of recollections of spiritual history lying deep in our soul-life through working actively with these motifs.
What is it about?
This practice-based course explores Steiner's Goetheanum ceiling sketches, a sequence given to the painters as a picture progression of the spiritual history of humanity. He described them as a training in karmic vision that could potentially awaken a perception of karma. We will work with selected motifs through lecture, study, contemplative observation and drawing. 
Background notes
Rudolf Steiner created a substantial portfolio of drawings, pastel sketches and paintings for the renewal of the visual arts, many destined for the interior of the First Goetheanum, with the purpose of helping us find a new relationship to art as a basis of spiritual awakening. The artforms in the first Goetheanum were intended to support a training in karmic vision through Art.
Art works upon the human soul to awaken in it a feeling, a deep feeling, for the spiritual realities of what is portrayed. By actively working with these motifs, we can approach an inner experience of their truths. Not only through the content but through the inward experience of them. By working actively with their forms and processes, we can learn to transform the soul body so that it can prepare itself for karmic awakening.
For the ceiling of the first Goetheanum, Steiner gave a series of 'epoch' motifs to the artists – 12 sketches for the large cupola of the first Goetheanum and 7 Sketches for the small cupola, culminating in the motif of the Representative of Humanity. We will explore these motifs: their gestures, meanings and role in our soul/spiritual evolution. 
Program 
7 x 1.5hr webinars approx. twice a month on Saturday afternoons, 4.00-5.30pm.
12/2 Workshop 1: The Elohim motif from the Creation trio – completed
26/2 Workshop 2:  Lemuria and Atlantis
19/3 Workshop 3:  Ancient India – Ancient Greece
2/4 Workshop 4:  The IAO motif: the Cosmic Word
23/4 Workshop 5:  Faust and his Genius
7/5 Workshop 6:  The Germanic and Slavic motifs
21/5 Workshop 7: Lucifer, Ahriman and the Representative of Humanity
Each session includes a short lecture, experiential artwork, contemplation and discussion as the foundation of a training for the ordering of our soul life. The series culminates in an optional weekend studio where participants can turn their sketches and studies into artforms that reflect their personal relationship to the evolution of consciousness.
Each session will be recorded and will be available for registrants.
Art material list and background reading suggestions emailed at registration.
Who is it for?
For students of Anthroposophy, Steiner teachers, artists and anyone interested in understanding Steiner's approach to the spiritual evolution of humanity.
Beginners in drawing are welcome. You do not need technical skills in the visual arts to find these workshops fruitful. These experiential workshops employ the anthroposophic approach to colour and process but the focus is on experiencing, not learning drawing techniques.
What dates are the workshops?
Saturday afternoons 4.00-5.30pm AEDT (until it ends, then AEST)
Webinar workshops: 12/26 February | 19 March | 2/23 April | 7/21 May
Weekend studio workshop: 3-5 June 2022
Missed most of the  webinars but want to join individual sessions?
You can still join us and catch up via the video recordings. Just contact Fiona Campbell
How much does it cost? 
Online series:  | $200 for full 7 webinars | $33 per individual workshop.
Weekend studio: Linuwel School, Maitland NSW, 3-5 June
What's included in the price? 
A video of each webinar, list of suggested readings and a curated selection of copies of the motifs for private study only. 
Where do I register?
After registration, participants will be sent the Zoom workshop link and a list of suggested readings and materials.  The Zoom link will be sent again one (1) hour before the webinar.
Please login for each session via your Zoom app and not via Eventbrite.
For more information
Please contact Fiona Campbell and share this flyer with others who might be interested. Thank you!
About Fiona Campbell 
Fiona Campbell is a researcher, lecturer, visual artist and arts educator. She has an interdisciplinary PhD on creativity and cognition.
In this course Fiona is presenting one of her special interests, the nature of human consciousness, a topic she has lectured on for 25 years. Her artistic research on the Goetheanum motifs complements this interest. 
Fiona is also a member of the Stream of Life Research Studio, where she focuses on her other two specialisations, phenomenology and creative cognition.
You can find out more about Fiona on her website, read about her teaching work at Sydney Rudolf Steiner College (where she has taught since 1994) or listen to a recent ABC Soul Search interview with her about the anthroposophical approach to art.
Fiona is concurrently offering Working with The Nine Trainings Sketches for the Painters, a masterclass online studio for painters interested in working more deeply with Rudolf Steiner's training sketches. 
'In the Goetheanum were forms that would awaken a perception of karma' (April 27, 1924)