The Heart in a Radiance of Stars
13 May

-

15 May

|

$300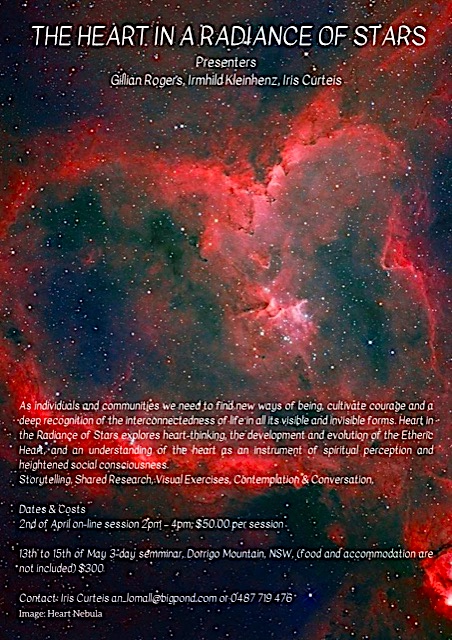 Presenters: Gillian Rogers, Irmhild Kleinhenz, Iris Curteis
These times present a call to individuals and communities to find new ways of being, to cultivate courage and a deep recognition for the interconnectedness of life in all its visible and invisible forms.
This series of online presentations will explore heart-thinking and the development and evolution of the etheric heart to find greater strength and insight to meet these challenges. Using storytelling, shared research and conversation, we will deepen our appreciation and understanding of the transformative capacity of the heart as an instrument for spiritual perception and heightened social consciousness. 
Program
5 March, 2 April, 13-15 May
Over three weekends: two sessions online and culminating in May in a face-to-face three-day seminar in Dorrigo, northern NSW. 
Venue
Online, with the seminar venue in Dorrigo, NSW.
Cost
Online sessions $50.00 per session
$80.00 for two sessions
Seminar $300.00 (not including food and accommodation) 
To book
Transfer fees to Gillian Rogers 
Commonwealth Bank Glebe
BSB 062172
Acc 00652362
Please add your name and the date of the session/s you are booking in to. 
For more information
Read the flyer about this course, including program and presenter details, or contact Iris Curteis for more information.