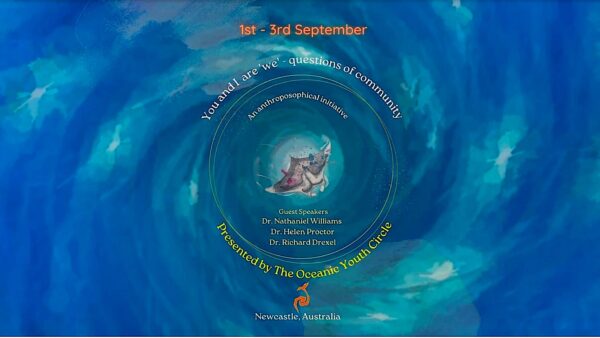 Presented by the Oceanic Youth Circle
1 September-3 September 2023
It is with great pleasure that the Oceanic Youth Circle is able to announce our very first conference. Our initiative began about two years ago and since then we have been meeting fortnightly over Zoom, studying anthroposophy, also known as spiritual science, together.
We are calling anyone who is young, working in anthroposophy, or interested in what anthroposophy is, to come together for a weekend of learning and connection.
There will be three amazing guest speakers, Dr. Richard Drexel and Dr. Helen Proctor from New Zealand and Nathaniel Williams, who is flying all the way from the Goetheanum in Switzerland, where he works as the leader of the Youth Section.
Conference theme
Our theme 'You and I are We – Questions of Community' arose from impulses we collectively share. Spiritually navigating the last threes has been no easy task for anyone, however the challenges those times brought have given birth to new impulses of change. It is this theme that we would like to explore together.
The price of the conference is $140 for the weekend which includes lunch and dinner. There is also accommodation available free of change (onsite camping). If you are experiencing financial difficulty, please reach out as we can help towards the cost as we do not want finances to be a barrier for anyone.
Share the news!
Feel welcome to share this announcement with your friends, colleagues, and anyone who might be interested in joining this unique gathering of young people. Together, we can create a vibrant and supportive community, empowering each other to explore anthroposophy's wisdom and learn how we can apply it into our lives.
We hope to see you at the conference, so that we can embark on this journey together during these challenging times of change. If you have any questions at all, send us an email at youthsectionoceania@gmail.com
Warm regards,
The Oceanic Youth Circle
Photo image: courtesy of the Oceanic Youth Circle