Vic Branch presents: The Twelve Holy Nights
2 December @ 10:00 am

-

12:00 pm

|

$50
Event Navigation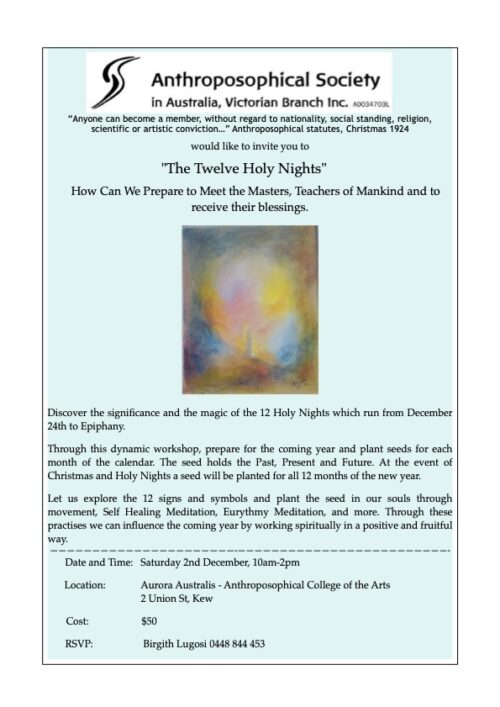 The Victorian Branch would like to invite you to
How Can We Prepare to Meet the Masters, Teachers of Mankind
and to receive their blessings
Discover the significance and the magic of the Twelve Holy Nights which run from 24th December to Epiphany on 6th January.
Through this dynamic workshop, prepare for the coming year and plant seeds for each month of the calendar. The seed holds the past, present and future. At the event of Christmas and Holy Nights a seed will be planted for all twelve months of the new year.
Let us explore the twelve signs and symbols and plant the seed in our souls through movement, Self Healing Meditation, Eurythmy Meditation, and more. Through these practises we can influence the coming year by working spiritually in a positive and fruitful
way.
Date and Time
10.00 am – 12.00pm, Saturday 2nd December 2023
Cost
$50
Saturday 2nd December, 10am-2pm
Location
Aurora Australis – Anthroposophical College of the Arts 2 Union St, Kew
For more information
Birgith Lugosi 0448 844 453