Therapeutic Art Training at Sienna Academy, 2nd module
20 September,2021

-

15 October,2021
Event Navigation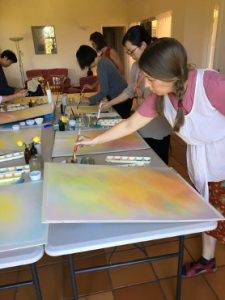 The Sienna Academy promotes artistic and therapeutic painting courses that bring healing through working with the spiritual archetypes of light, darkness and colour. Artistic mediums include water colour moist-on-moist and veil painting; charcoal, pastel and pencil drawing.
Courses weave together 3 main strands of teaching: developing the student's artistic abilities; developing the skills to work therapeutically as a painting therapist and making more conscious the inter-connectedness of inner and outer colour world as a path of self- development.
There are daily lectures and discussion bringing alive insights given by Rudolf Steiner about the Human Being, together with medical lectures and case studies to help each person to go on their own healing journey; a necessary prerequisite for being able to work effectively with others. The students own practise at home involves daily painting, charcoal work, observation exercises, meditation, study and written assignments.
The Post Graduate Training taught in Australia and China takes 3.5 years to complete. Students come together for two 4-week  blocks of training a year. In addition, the course includes students' independent work at home, practicals essays and a Final Case Studies Work.
For more information, see here
Dates for 2021
April 5 – 16            Carmine Red (past event)
April 19 – 30          Cobalt Blue (past event)
Sept. 20 – Oct. 1     Orange
Oct. 4 – 15               Turquoise
Online Modules
(For students unable to travel)
March 29 – 16       Carmine Red (past event)
April 19 –May 7     Cobalt Blue (past event)
Sept. 13 – Oct. 1     Orange
Oct. 4 – 22               Turquoise
The cost for on-site modules
$850 each module (14 Modules)
Materials are not include in the cost.
The Post Graduate Training is accredited by iARTe (International Association of Anthroposophic Arts Therapies Educations – formerly European Academy)