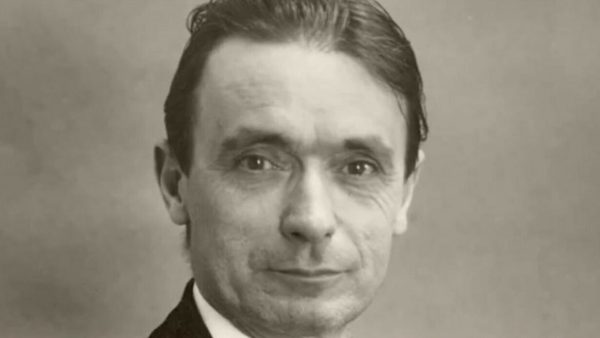 Remembering Rudolf Steiner
Today is the 98th anniversary of Rudolf Steiner's death on 30 March, 1925. This post is dedicated to remembering the founder of the Anthroposophical Society.
Significance of the death day
According to astrosopher Willi Sucher, 'the starry sky at the moment of death is like a nativity into the spiritual world, for as an embryo swims in the waters before birth, so the soul swims in the cosmic ether after death.'  And those who are familiar with Astrosophy and the original Calendar of the Soul know that Steiner listed the birth and death days, as well as other significant occurrences of various individualities along with the dates, in the calendar. 
He said in the preface to the Calendar: "What is presented here can be useful to those who wish to follow the path of mankind's spiritual development" ~Rudolf Steiner
This is the second last week of the Calendar year, which begins its year with Easter. Here are the two verses for this week, for the southern hemisphere and its reciprocal verse for the northern hemisphere: 
Creating itself ever anew
The soul's being becomes aware of self
New quickened in this self-knowing
The world spirit strives onward
And creates from darkness of the soul
The fruit in will of self-awareness.

Into the human being's inner realm
There flow the riches of the senses;
The spirit of the world discovers
His mirrored image in the human eye
Which must through him
Create its power anew.
(John Slater, Calendar of the Soul Online, English translation 2023)
A personal reminiscence of Rudolf Steiner
Assya Turgeniev (1890 – 1966) was a Russian artist in Steiner's circle from 1912 until his death in 1925. She also worked with the engraved windows in the first Goetheanum. She gifts us with this quite personal picture of Steiner:
The distinguished and elegant appearance of Dr Steiner, whose slim and lithe figure in its black frockcoat was as though pervaded by a breath from the 18th century.

The greatness and tragedy of bygone epochs of culture spoke through his every movement and feature. A wise old man- sage, artist, warrior, a young man – his expression was constantly changing. His features bore the stamp of great works of art. One caught the effect of a Rembrandt portrait which reveals the hidden secrets of a countenance as easily as it represents its physical perceptible features. His light, rhythmical step gave one the impression that the earth itself adapted to his rhythm. He had a very upright bearing, at the same time mobile, with subtle hands and very quick movements of the slightly backward tilted yet rather bowed head. Only the eagle has such a posture. And the eyes of an eagle, quick and penetrating or wide open and gazing into the sun! but Rudolf Steiner's eyes were filled with infinite pain and warmth of love.  Many people have tried to describe Rudolf Steiner, but neither our words nor our brushes can bridge the great gulf that separates him from ourselves, even with regard to outward appearance. He, however, understood how to bridge the gulf through his natural, self-evident friendliness. One could marvel again and again at his unconstrained and easy manner.'
From Reminiscences of Rudolf Steiner by Assya Turgeniev., p.17