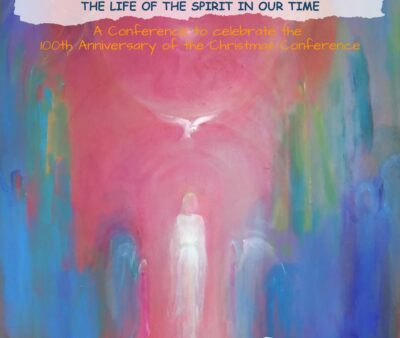 Recognising and Affirming the Mystery Deed
of the Christmas Conference
as We continue to Cultivate the Life of the Spirit
in our Time
Wednesday 27th to Sunday 31st December|
The Michael Centre, Warranwood VIC

A Christmas conference in Melbourne
We welcome your participation in this important event to commemorate and celebrate the Christmas Conference, which was held 100 years ago in Dornach, Switzerland. 
On this, the 100th Anniversary of the Christmas Conference, it is our deepest wish to gather together a group of like-minded, like-striving souls to raise our consciousness to understand what was placed before humankind 100 years ago
Through the combination of what we offer over the five days of the event, we anticipate forming of a living experience of Anthroposophy. This can then be carried forth into the future through our individual lives and our work together with others. At this time in history, we are being asked to stand strong, awaken our thinking and warm this with our heartfelt feeling so that we can become conscious of what the spiritual world is asking of us. We hope that this conference gives us the strength to stand together in this work.
This conference is hosted by the School of Spiritual Science in Australia. 
Find out more about this event! or contact Helen Vogel 
Preparatory lectures to inspire you
As part of the preparation for the 1923 Conference commemoration, the Sydney Branch are hosting six presentations on the theme from October to December. The are hybrid events, so if you don't live in the Greater Sydney regions, you can watch them online. 
Program
The Tasmanian Branch are also holding a gathering on 10th December, 2023 on the particuular theme of Rudolf Steiner's last address at the 1923 conference.
A Christmas conference at the Goetheanum
That Good May Become… 100 Years Christmas Conference
There is also a commemoration conference of the General Anthroposophical Society and the Anthroposophical Society in Switzerland at this time. It offers an extensive program of workshops, lectures and performances for those who can visit Switzerland at this time. 
FInd out more here or download the program 
O Light Divine,
O Sun of Christ!
Warm Thou
Our Hearts,
Enlighten Thou
Our Heads,
That good may become
What from our Hearts we would found
And from our Heads direct
With single purpose.
Excerpt from the Foundation Stone Meditation