Save the date! A conference to celebrate the 100th anniversary of the Christmas Conference
27 December @ 8:00 am

-

31 December @ 5:00 pm
Event Navigation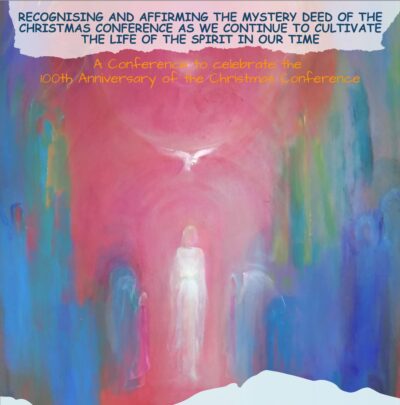 Recognising and Affirming the Mystery Deed of the Christmas Conference as We continue to Cultivate the Life of the Spirit in our Time
We welcome your participation in this important event to commemorate and celebrate the Christmas Conference, which was held 100 years ago in Dornach, Switzerland. 
On this, the 100th Anniversary of the Christmas Conference, it is our deepest wish to gather together a group of like-minded, like-striving souls to raise our consciousness to understand what was placed before humankind 100 years ago so that through this our hearts may be warmed and our thinking enlivened so that we may strive towards the future with Michael strength and Christened heart for the good of humanity.
When
Wednesday 27th to Sunday 31st December
Where
The Michael Centre Wellington Park Dr, Warranwood, Victoria
Program
For more information
Please contact Helen Vogel 

O Light Divine,
O Sun of Christ!
Warm Thou
Our Hearts,
Enlighten Thou
Our Heads,
That good may become
What from our Hearts we would found
And from our Heads direct
With single purpose.
Excerpt from the Foundation Stone Meditation
Photo credits: courtesy of Birgith Lugosi