Complementaries and Counter Colours: Working with Steiner's How to Know Higher Worlds through Art
10 February @ 2:00 pm

-

5 May @ 4:00 pm
Event Navigation
A masterclass studio
with Fiona Campbell
Imaginative exercises based on meditative exercises given by Steiner in How to Know Higher Worlds using colour, archetypal processes, observation and contemplation
This 7-session course provides an artistic entry into his preparatory exercises of inner and outer observation, contemplation and moral development. It aims to nourishes creativity and feeds the soul life. 
Through exploration of the complementaries and counter-colours, we can strengthen both our imaginative faculties and our life forces. 
You don't have to be a trained artist, or even very experienced, to enjoy this course, but you do need self-motivation, some knowledge of Steiner's meditative work and some painting technique. 
Background information
With the increasing, encroaching advent of AI-generated images filling our screens, through film, tv and internet, the essential creativity that lives in the soul of every human being is under threat. AI-generated art is not creative. It does not arise out of human creativity but out of machines. In the face of this attack on our human-ness, we need to bring a counter-impulse by strengthening our capacity to create inner images.
By working artistically and contemplatively with colour and the forming forces, we can nurture the emergent qualities of our humanity, such as our uniquely human capacities to create and to think and to think creatively, We can counter this dehumanising force, 
We need to  enliven our inner images to counter the life-destroying images of AI-generated art.
Who are the masterclasses for?
For artists, art therapists and art students looking to find a path of soul/spiritual development through the arts.
For anyone seeking a non-intellectual pathway into Steiner's meditative path.
For anyone interested in gaining an appreciation of art as a revelation of spiritual realities through painting.
To get the most out of this course, it is anticipated participants will work on their own between the fortnightly sessions. 
Required: some familiarity with the anthroposophic approach to art and painting skills. Watercolour wet-on-dry skills is preferred but other techniques, such as wet-on-wet or chalk pastels are acceptable but technical advice is not directed towards these media.  
Please note: this is not a step-by-step instructional class so not suitable for beginners in painting or drawing unless you are adventurous and self-motivated!
What dates are the classes?
2-4pm AEDT Friday afternoons
10 February-5 May
The workshops are recorded but live participation is preferred, unless your time zone makes this impossible. 
How much does it cost?
Online series:  $260 for 7×2 hr masterclasses, including video recording.
How do I register?
Payment details and a list of suggested materials and readings available upon registration.
For more information
For more information about the masterclass or for any questions, please contact Fiona Campbell 
About Fiona Campbell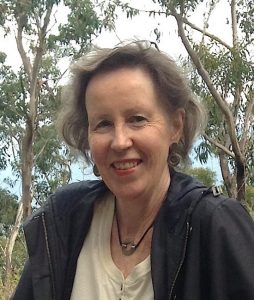 Fiona Campbell is a visual artist, researcher, lecturer and arts educator. She has an interdisciplinary PhD on creativity and cognition and has been a professional artist and arts educator for more than 30 years. 
She is also teaches interdisciplinary research training and consciousness studies. She is a member of the Stream of Life Research Studio, where her focus is phenomenology and creative cognition and is creative consultant for the multimedia Parsifal Project.
Fiona has been involved with Anthroposophy for over 40 years and brings a wealth of knowledge and experience about the core principles and practice of Steiner's work to her classes. You can find out more about her, read about her lecturing work at Sydney Rudolf Steiner College (where she has regularly taught since 1994) or listen to an ABC Soul Search interview with her about the anthroposophical approach to art.
"Colour is the soul of Nature and of the entire cosmos…" Rudolf Steiner
Photo image: Black Study I, Fiona Campbell 1996, courtesy of Fiona Campbell