Inscribing Signs with a Finger Dipped in Light
10 March @ 8:00 am

-

12 March @ 5:00 pm
Event Navigation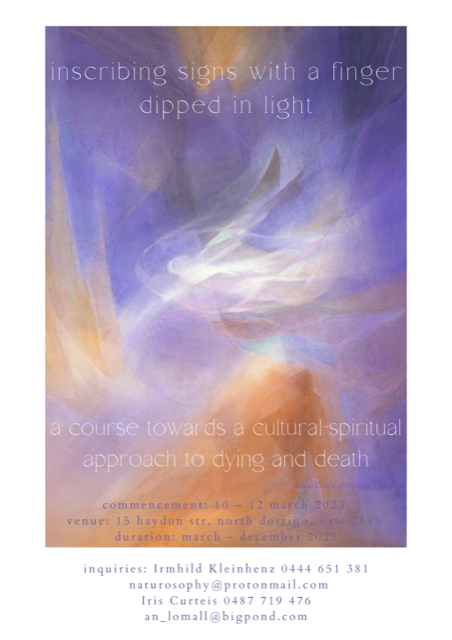 A COURSE TOWARDS A CULTURAL-SPIRITUAL APPROACH TO DYING AND DEATH
This course uses creative sources and insights offered by Spiritual Science, to reveal death as the most sacred moment in our life; a moment that is entirely individual. Out of this insight, that all life is a process of stirb und werde, Goethe's 'die and become', we will focus on Spiritual-Cultural approaches – Contemplative Enquiry as a 'way of knowing', creative processes, visual art, music, speech, poetry, creative writing, oral storytelling and folktale research, eurythmy, meditation, and inspiring, and deeply insightful presentations – that will encourage you to creatively approach dying and death in your own life, and enable you to support others journeying towards the threshold.
There is a further question we wish to explore. Our fear of death and dying has separated us from life imbued with Spirit and pushed us deeper into materialism and consequently onto a path of destruction we now know by the term of 'omnicide'. Can we resolve to find new approaches to dying and death for the sake of Earth's healing and to evolve humanity towards freedom and love? Our increasingly challenging times will provide us with opportunities to realise and to deepen our spiritual interconnectedness and responsibilities.
Course intention:
To facilitate a process through which participants develop their own healthy and integrated relationship to dying and death.
To support participants in their intention to become trusted companions of the dying, the care of the deceased, the care of souls who have crossed the threshold.
Commencement: 10 – 12 march 2023
Venue: 15 Haydon Street, North Dorrigo NSW 2453, Australia
Duration: 10-12 March, then throughout the year.
Inquiries: Irmhild Kleinhenz 0444 651 381 or Iris Curteis 0487 719 476