Facing Our Shadow Self in the 6th Epoch
22 October @ 4:00 pm

-

5:30 pm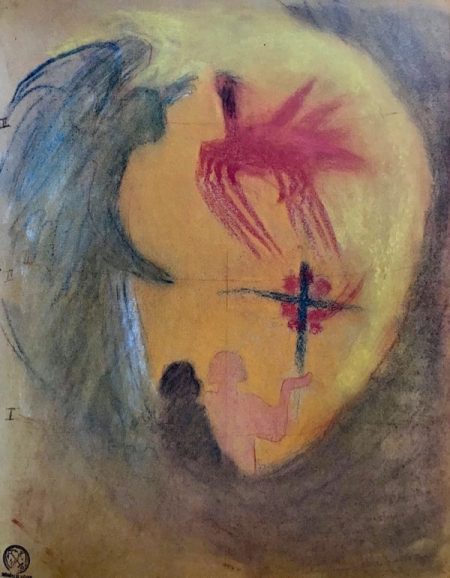 | The Slavic Motif and Our Shadow Self | 
The 2nd of 3 practice-based webinars exploring the tragedy of dualism
in the  5th epoch, 6th epoch and our cosmic future
as represented in the ceiling motifs of the first Goetheanum
'I must not ever leave you.
You will in future often find me at your side;
I shall not go from you until you find
the power of that which you are to become.'
(The Soul's Probation, Scene 5)
Presenter: Fiona Campbell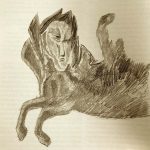 Our shadow self is usually seen as being our disowned self, those aspects of our selves we don't or won't accept. This shadow is also a development of our innate dualistic nature. So, how can we grapple with this? In the motifs that filled the ceiling of the first Goetheanum, we find some answers.
This is the 2nd webinar in the The Great Luciferic/Ahrimanic face-off . But you don't have to have attended previous webinars to enjoy the presentation and discussion. 
Tell me more …
We use the motif (pictured above) representing the 6th epoch, still far in our future, to understand the nature of our double or shadow as a picture of dualism in our souls.
What really is this shadow?

How will we experience it?

Do all beings have a shadow, even angels?

And how does this affect our future evolution and spiritual development?
We explore these questions through study, discussion, contemplation and a little sketching of the motif. 
---
Who are the webinars for?
For anyone interested in Steiner's approach to the spiritual evolution of humanity.
You do not need to have attended any previous webinars in this series nor do you need drawing skills to enjoy these workshops: the focus is on the experiencing the content through doing, not learning drawing techniques. 
When are they on?
Saturday afternoon 4.00-5.30pm AEST
Webinar workshops: 22 October | 26 November
Each session will be recorded and a video of the event will be available post-webinar.
A list of suggested drawing materials and background readings is also included in the cost. 
How much does it cost? 
Online series:  | $60 for 2 webinars | $35 per webinar | Concessions available on request – please contact Fiona.
Video recording included in the cost
Where do I book? 
After booking, I will send you a confirmation email containing the zoom link to join the meeting. 
Then download the payment details, materials list and suggested readings.
For more information
Please contact Fiona Campbell 
---
Background notes
What exactly is dualism?  
The term 'dualism' has various characterisations in different cultures and time periods. But in general, it means there are two fundamental kinds or categories of things or principles. In theology, for example, a dualistic principle is Good and Evil or God and the Devil as independent yet equal forces in the world. Light and Darkness is another example of dualism common to most cultures.
According to Rudolf Steiner, dualism in our human evolution is expressed through two opposing yet interdependent entities called Lucifer and Ahriman. Both these names can be found in the Bible and in Zoroastrianism as mighty beings, like fallen angels. But today they are experienced in our soul life as polar-opposite forces that we unconsciously swing between, like a pendulum. The first webinar in this series, The Great Luciferic/Ahrimanic Face-off,  explored their influence in our daily lives in some depth. A video of this webinar is available on request. 
This webinar considers how this split might evolve into a separate shadow self. 
About the first Goetheanum
2022 marks the centenary of the burning of the first Goetheanum on New Year's Eve in 1922/23. As part of the 100th anniversary of the fire, artists and members of the Anthroposophical Society around the world have been working with the forms and motifs of the 1st Goetheanum. These three webinars are part of this world-wide activity.
For the ceiling of the first Goetheanum, Steiner gave a series of 'epoch' motifs to the artists – 12 sketches for the large cupola of the 1st Goetheanum and 7 Sketches for the small cupola. These motifs map the spiritual history of humanity and were intended to support a training in karmic vision through Art.
.
Photo credits: from The Language of Color in the First Goetheanum by Hilde Raske