2021 AGM of the Anthroposophical Society in Australia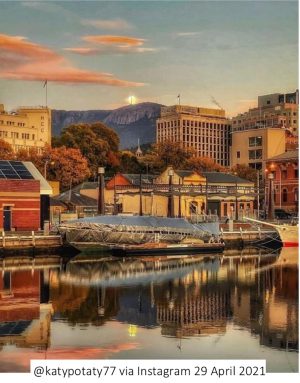 – Healing and Resilience –
A three-day program hosted by Jane Bradshaw, General Secrettary of Australia and the Tasmanian Branch, with guest speakers from New Zealand, Melbourne and NSW, culminating in the 2021  AGM of the Anthroposophical Society in Australia ( ASinA) on the morning of Saturday 10th of July 2021 at Tarremah Steiner School, Hobart.
Friday 8.30am – 7.30pm: Registration, lectures and star-gazing, weather permitting.

Friday 3:00pm-4.00pm: live (zoom) Goetheanum tour and introduction to the Vorstand with Q&A.

Saturday 9.00am: Eurythmy and presentation.

Saturday 10.30am – 12:00pm: AGM with a Zoom link for online attendees.

Saturday 1.30-5.00pm: Lectures and acknowledging the dead. 

Sunday 9:30am: Class Lesson (Blue card required) 
For the full program, click here. Please check for presenters, times and venues. 
Program presenters
Michelle Vette – 'Re-semblance'
Michelle is the General Secretary for the Anthroposophical Society in New Zealand and co-coordinates the Foundation Course in Anthroposophical Nursing at Taruna College, NZ. She is currently completing a Masters in Nursing.  
Brian Keats – 'Seeds and the Human Being' + possible star gazing in the evening
Brian has a deep knowledge of biodynamics and is a spiritual scientist. His research enables the creation of his annual BD/astronomy calendar.
Rod Tomlinson – 'Night Echo'
Rod has spent the last forty years working in Steiner educational initiatives in Australia as a primary Class teacher and as a secondary specialist teacher and guardian, as well as in management and governance
Maria Garrido – 'From Vulnerability to resilience (the experience of life unfolding)
Maria holds trainings in Mysticism and Human Sciences, Counselling and has a Graduate Diploma in Arts Therapy.
Registration 
You can find the registration form for the whole event
here
. There will be a sign-in on Saturday at 8.30am. For the full program, click
here
or for more information, contact
Jane Bradshaw
.
Cost
Lunch $10 and Dinner $15
Morning tea and Afternoon tea provided.
Other activities to do while you are here
Pack your winter woollens, maybe stay longer on the beautiful island for bush or beach walk, or visit
Mona
the museum of new and old art. On Saturday night,
Cary Lewincamp
presents an evening of music, storytelling and a fascinating workshop on how he makes his guitars.
Cary
runs these evenings every Saturday night from 5-7pm.