The IAO Motif and the Foundation Stone Meditation
26 November @ 4:00 pm

-

5:30 pm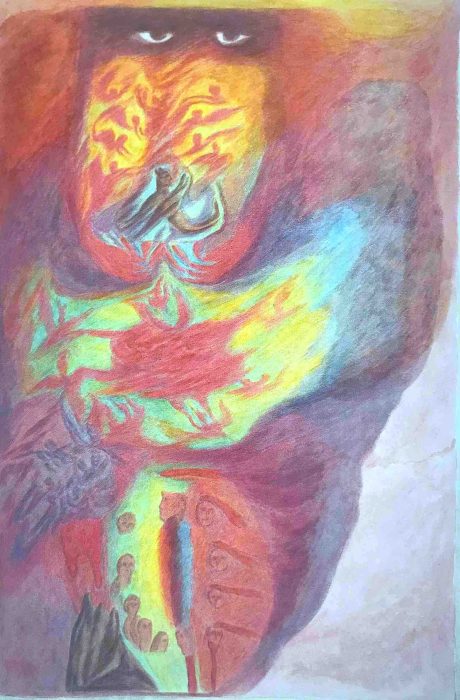 The IAO:  the Cosmic Image of the Human Being
and the Foundation Stone Meditation
The final webinar of 3 practice-based workshops exploring key challenges of 5th epoch, 6th epoch
and our cosmic future as represented in the ceiling motifs of the first Goetheanum
Presenter: Fiona Campbell 
This is the 3rd and final webinar in the The Great Luciferic/Ahrimanic face-off exploring the ceiling motifs of the first Goetheanum, as a transformative picture of the spiritual history of humanity. They raise questions about their relevance to today and how they could guide our future development. Each motif embodies a soul stage of human development as we traverse our starry and earthly path as individuals and as humanity as a whole.
Tell me more
The tragedy of dualism in our souls, and how it manifests has been the leitmotif of this series. In this final workshop, we contemplate how the path from the IOA as cosmic word resounding from the beginning of time to the IAO, the cosmic image of the human being, is a picture and a guide as to how to grapple with our innately dualistic natures.
In this presentation, we explore these theme through discussion, contemplation and a little sketching of the motif. 
Who are the webinars for?
For anyone interested in Steiner's approach to the spiritual evolution of humanity.
But you don't have to have attended previous webinars to enjoy the presentation and discussion. 
When is it on?
Saturday afternoon 4.00-5.30pm AEDT
Webinar workshops:  26 November
Each session will be recorded and a video of the event will be available post-webinar.
A list of suggested drawing materials and background readings is also included in the cost. 
How much does it cost? 
Online series:  $35  | Concessions available on request – please contact Fiona.
Video recording included in the cost
Where do I book? 
After booking, I will send you a confirmation email containing the zoom link to join the meeting. 
Then download the payment details and materials list. 
For more information
Please contact Fiona Campbell 
Background reading
The Foundation Stone Meditation GA 260
Background notes
About the first Goetheanum
2022 marks the centenary of the burning of the first Goetheanum on New Year's Eve in 1922/23. As part of the 100th anniversary of the fire, artists and members of the Anthroposophical Society around the world have been working with the forms and motifs of the 1st Goetheanum. These three webinars are part of this world-wide activity.
For the ceiling of the first Goetheanum, Steiner gave a series of 'epoch' motifs to the artists – 12 sketches for the large cupola of the 1st Goetheanum and 7 Sketches for the small cupola. These motifs map the spiritual history of humanity and were intended to support a training in karmic vision through Art.
.
Photo credits: from The Language of Color in the First Goetheanum by Hilde Raske 
'In the beginning was the Word'

"Let us make human beings in our image, to be like us'