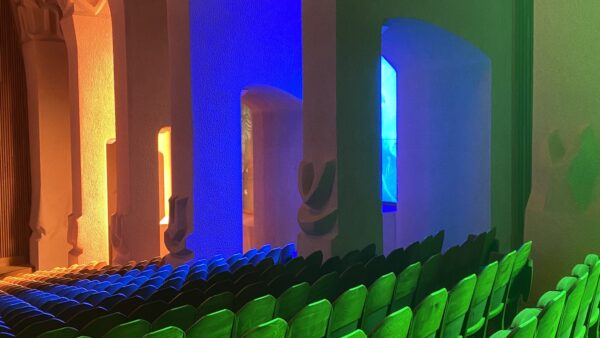 A brief report from the General Secretary
The Goetheanum World Conference

September 27 – October 1, 2023
We know that some are people are born with Anthroposophy ringing in their souls, and some were brought up in a cradle of Waldorf education or with generations anthroposophical relatives.
What about other people?
It's only through a genuine encounter with the other in warm exchanges across language and cultural boundaries that enables access to Anthroposophia.
1000 people from 60 different countries participated at the Goetheanum World Conference at the Goetheanum recently. Very warm Autumn weather greeted us each day and the Dornach hill was green and lush with the gesture of welcome.
These days at the Goetheanum were filled with rich opportunities for working together. There was a World Café at the south entrance providing an outside area to participate in collaborative approach to conversation and collective learning amongst groups of alternating people, in a café-like setting.  
Program
Lectures each morning were followed by thematic groups worked with contemporary challenges and anthroposophy. These 12 groups were designed and co-moderated by Sections of the School of Spiritual Science.
A sample of themes included:
On earth we want to live. What are our contributions to the future of the earth? (Section for Agriculture and Natural science)
Health for humans and the planet. How are human health and earth health related and how can they be promoted? (Medical Section and Section for Agriculture)
Living with technology. What perspectives arise from anthroposophy on transhumanism? (Section for Literary Arts and Humanities, Sections for Visual Arts and Natural Science)
How do I move from meditative self-discovery to cooperation with the sensual, social and spiritual world? (G.A.S, Pedagogical Section Medical Section and Sections for Performing Arts and Natural Science)
Equal and different. How do I contribute to search for the I? Conversations on interculturality, gender identity, karma, and reincarnation. (Pedagogical Section and the Anthroposophical Council for inclusive social development)
Biosphere based economy– associative work as a cultural technique for more resilience in life. (World Goetheanum Forum)
Anthroposophy and public debate. How do we communicate?
Workshop themes
These included workshops on listening and moving, dyeing with plants, painting, singing, the primal social phenomenon, 'courage to be vulnerable', banking and finance. Panel conversations took place every afternoon and with performances in the evenings.
And many more. See the full range of activities and events
Verbal feedback about the conference
I heard from participants: widened view, relaxed, enriched, 'wowed' at other people's capacities, hopeful, joyful, delighted by the youth that were present as a symbol for the future, enthusiastic, grateful, clearer, more confident to be able find an 'in between' place in conflict, more confident that The Anthroposophical Society has the necessary strength of 'the vessel' that is capable and appropriate to respond today's times of difficulty on earth and the spiritual world.
We are grateful to the GAS organising committee for providing this rich opportunity to deepen karmic connections in moments of self-awareness, depth and soul intensity.
Stay tuned for the reports of the conference in the newsletter, Anthroposophy Worldwide.
Jane Bradshaw
General Secretary of the Anthroposophical Society in Australia
Tanya Coburn report on the conference
Tanya Coburn, a member from Victoria, also attended the Goetheanum World Conference. She shares her experience of the conference here. 
Photo credits: courtesy of Jane Bradshaw