The Human Journey
A mid-Winter experience based on the story of Parzival's struggles and encounters in life.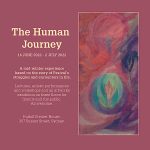 Lecture, artistic performances and workshops and an artworks exhibition on three floors for friends and the public. All welcome. 
Events are free of charge.
Donations welcome to cover costs. 
Materials for the workshops are $10 for the two artistic workshops on Saturday 25 June. 
For more information
Please see the flyer for program details.