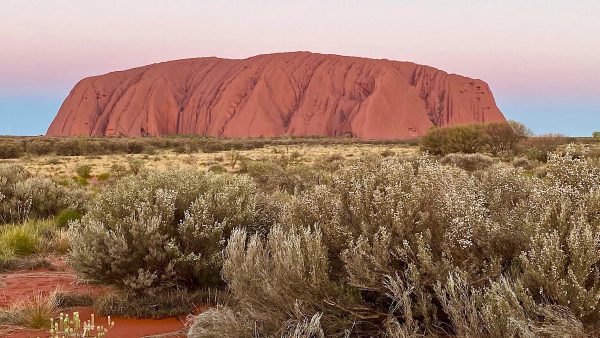 A Michaelmas message from General Secretary Jane Bradshaw
On this expansive southern continent, we celebrate Michaelmas in Spring. This seasonal difference asks us to enliven our everyday thinking and to contemplate the contrast of nature realities we have with our northern hemisphere friends and  with those near to the equator.
Can we strike through the physical earth with our consciousness and imagine our collective experience as earthly beings? And can we then further expand our imagination beyond physical sense perception?
Experiencing Spring in Arrernte country 
In all directions we experience a perceptible change in the quality and angle of light brought by the seasonal changes.
In Australia, wattle trees burst into blossom and birds call to us from the hill tops. The days lengthen and the temperature warms.
In the semi-arid central desert region, the zebra finch and budgerigars abound, singing and swooping in flocks around the sparse and hidden water holes. Humans can consciously experience nature, allow nature to open our minds and hearts to the realm beyond the threshold, from whence the bird song and life forces come. A direct experience of gratitude can prevail in the stillness, as we perceive this etheric stream in motion.  
Uluru embodies a past consciousness, hardened sandstone uplifted tectonically 90 degrees from beneath the current earth's crust. Originally grey coloured on the surface, now it is with red iron oxide expressing a kaleidoscope of colours. This is sacred land to the Arrernte people, and any other who can open their spirit eye. This taking of outer nature and then spiritualising it is a Micha-elic motive. 
The ancestors, the so-called dead, are nearby, waiting for our recognition and communication.
A Micha-elic imagination
A modern imagination for me is a conscious fellowship, whose armour is fashioned from spiritual wisdom, whose heart's inner sun radiates healing, and their veins are rushing with 'living' iron in the blood, bringing strength to will and force to our speaking.
In the forest of darkened minds lies the inner dragon of judgement, cynicism, and fear.
But healing flows from the knowledge that the human being is also a spiritual being. Courage, perseverance, sociability, creativity, and spiritual research are the guiding motives for the Micha-el festival.
So let us practice together to create inner order, inner justice, peace, and conviction in the darkness of our time.
This is our task.
Jane Bradshaw September 2021
Jane and Cole Bradshaw recently spent 10 days in Central Australia, Arrernte country. 
Michaelmas around the country
Some branches not in lockdown are holding a Michaelmas festival on Sunday 26 September, so do be sure to check your local branch pages for more information. For those in the eastern states, there is the online series of lectures from Educaredo. You can find out more information about these six sessions here. 
Featured photo: Jane Bradshaw: 'Uluṟu, Kata Tjuṯa National Park⁩, ⁨Mutitjulu⁩, ⁨Australia⁩
Photo credit: courtesy of Jane Bradshaw. 
Image credit: courtesy of Fiona Campbell: