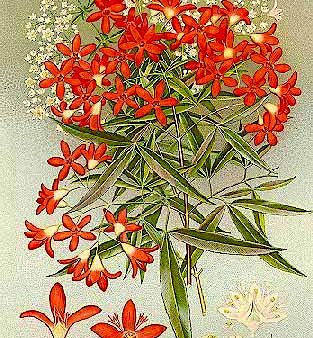 Seasonal and festive greetings to all
A message from Jane Bradshaw, the General Secretary of the ASinA
The mood of anticipation and hope comes to us in Advent as we prepare for Christmas and the end of our calendar year.
This archetypal feeling of expectation and preparation is shared with fellow humans across this earthly globe.
May our hearts be open to what we have in common in this diverse world.
To view the contrasts of nature in the southern and northern hemispheres can appear as a divide, but a conscious contemplation of the whole earth soul in a breathing process brings the connection.
In our southern land, there is a breathing-out, as nature in its splendour delights our senses with warmth and brightness and flowering.
Human consciousness can fall asleep. In the summertime, we can lose our individuality, as the soul is drawn to the periphery, outwards to the starry heavens accompanying nature's elemental beings.
In the northern hemisphere, in the winter, all are drawn inwards, bringing a distinct clarity and wakefulness of the soul.
The polarity in this earth picture is two-fold but spiritual science invites us to perceive the threefold, beyond the physical senses.
The trinity lives in the movement and spaces in-between the breathing.
Can we envisage this single entity of living earth and the striving to evolve?
In studying the verses from Rudolf Steiner's Calendar of the Soul, the dichotomy and connectedness can find expression for our imagination, strengthening our will and, as such, our immune systems.
The materialism of our time and the rigidity of thought life seeks to penetrate and paralyse us.
Without the light of spirit, all is grey.
What comes to us from the outside meets our own inner world and a challenge arises.
Our task is to bring forth hope and trust.
At this time, let us create and dwell in an atmosphere of trust in what is coming to us from the future.
In our gatherings may our inner attitude of hope transform into moral energy for goodwill.
Jane Bradshaw, December 2021
Summer and Winter 
Asleep is the soul of Earth
In Summer's heat,
While the Sun's outward glory
Rays through the realms of space.

Awake is the soul of Earth
In Winter's cold,
While the Sun's inmost being
Lightens in spirit.
Summer's day of joy
For Earth is sleep.
Winter's holy night 
For Earth is day.
From Rudolf Steiner's Verses and Meditations