Projective Geometry, The World of Life and The World of Soul
1 May @ 7:00 pm

-

12 June @ 9:00 pm

|

$445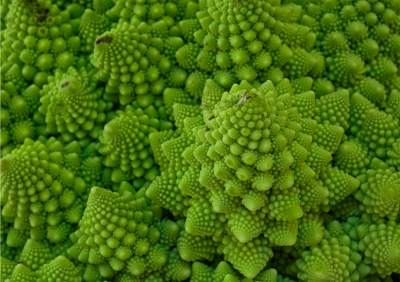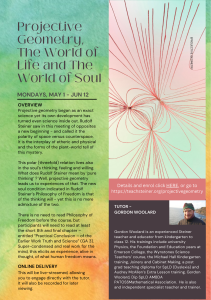 Projective geometry began as an exact science yet its own development has turned even science inside out. Rudolf Steiner saw in this meeting of opposites a new beginning – and called it the polarity of space versus counterspace. It is the interplay of etheric and physical and the forms of the plant-world tell of this mystery.
This polar (threefold) relation lives also in the soul's thinking, feeling and willing. What does Rudolf Steiner mean by 'pure thinking' ? Well, projective geometry leads us to experiences of that. The new soul condition indicated in Rudolf Steiner's Philosophy of Freedom is that of the thinking will – yet this is no mere admixture of the two.
There is no need to read Philosophy of Freedom before the course, but participants will need to read at least the short 8th and final chapter – entitled "Practical Conclusion – of the Earlier Work Truth and Science" (GA 3). Super-condensed and real work for the mind, this elicits an experience, alive in thought, of what human freedom means.
Date/time
Duration: Term 2. Mondays 1 May to 12 June.
Monday evenings from 7.00 – 9.00pm (Melbourne time)
Cost
Cost: $445 per term
To register
For more information
For enrolment questions, please contact Carmen in the office on +03 9876 5199 or email her.
About the tutor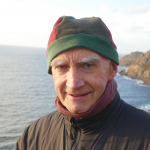 Gordon Woolard is an experienced Steiner teacher and educator from kindergarten to class 12. His trainings include university Physics, the Foundation and Education years at Emerson College, the Wynstones Science Teachers' course, the Michael Hall Kindergarten training, Joinery and Cabinet Making, a post grad teaching diploma for SpLD (Dyslexia) and Audrey McAllen's Extra Lesson training. Gordon Woolard, Dip SpLD AMBDA PATOSSMathematical Association
He is also an independent specialist teacher and trainer.