A Song for the Planets – A Spoken Sound Event in Nature
Event Navigation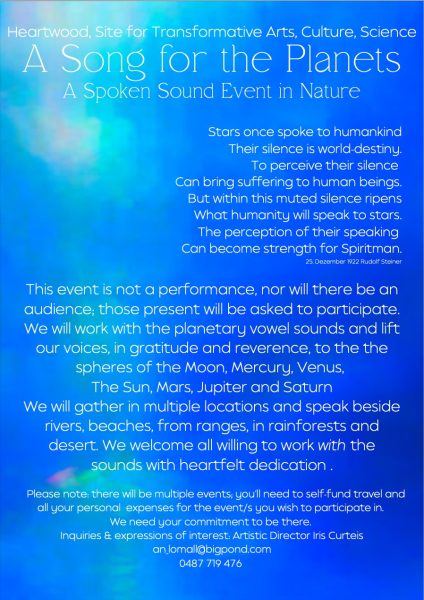 This event is not a performance, nor will there be an audience; those present will be asked to participate. We will work with the planetary vowel sounds and lift our voices, in gratitude and reverence, to the the spheres of the Moon, Mercury, Venus, The Sun, Mars, Jupiter and Saturn
We will gather in multiple locations and speak beside rivers, beaches, from ranges, in rainforests and desert. We welcome all willing to work with the sounds with heartfelt dedication.
Please note: there will be multiple events; you'll need to self-fund travel and all your personal expenses for the event/s you wish to participate in it.
We need your commitment to be there.
For more information
Inquiries & expressions of interest: Artistic Director Iris Curteis
an_lomall@bigpond.com
or phone 0487 719 476